Outlook can't send after upgrading to Windows 10
This issue seems to be common for some specific configurations although the actual cause isn't clear at this point.
It can happen with any version of Outlook. 
Please note that this issue would not be specific to Blacknight, and appears to be an issue with Outlook after upgrading to Windows 10.
However this action has been know to resolve the issue for most users. Please see the following -
Windows Resource Checker –sfc /scannow
To recover from the issue, you must run the Microsoft Windows Resource Checker tool, also know as "System File Checker" or "sfc". This tool scans and verifies the integrity of all protected system files and replaces incorrect versions with correct versions.
Right click on the Start button of Windows and choose: Command Prompt (Admin).

If you don't see this, instead choose: Windows PowerShell (Admin)

Behind the prompt type: sfc /scannow
(note the space in the command)
Wait until the process completes. This usually doesn't take longer than 20 minutes with a regular hard disk and takes much shorter when you have a fast SSD drive.
Restart your computer.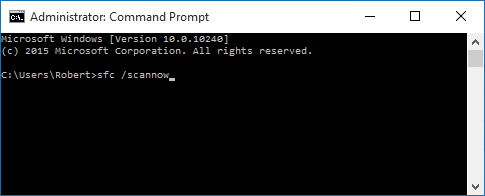 With sfc /scannow some critical Office files are being put back where they needed to be after upgrading to Windows 10.