Plesk updates are improvements that positively affect Plesk's security and stability, or introduce other changes that were developed after the Plesk version was released. These updates are not a change of version, but just an applied update to the current version.
If you would like to upgrade the version of Plesk please see here.
Please note also that this guide requires that you are logged into your Plesk account. If you need help logging in please see here. 
---
It is possible to apply updates to Plesk in the following ways:
Manually, though the Plesk user interface.
Automatically (Which is the setting recommended by Plesk).
---
Manually Update Plesk
1)  Navigate to the Tools & Settings tab located in the menu on the left side of the page.
2) Click on Upgrades and Updates in the menu below Plesk.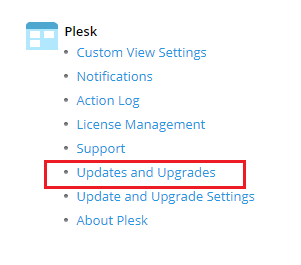 3) Click on Update Components

4) Select the components that you would like to update and click Continue to apply the updates to the chosen components.
---
Set Plesk to Update Automatically
1) Navigate to the Tools & Settings tab located in the menu on the left side of the page.
2)  Click on Update and Upgrade Settings in the menu below Plesk.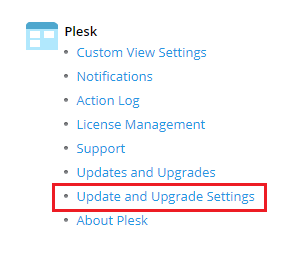 3) If you choose to activate updates, Plesk will check for updates once a week. If updates are available, they will be automatically downloaded and installed by Plesk.
Use the following options to enable automatic updates:
Automatically install Plesk updates (Recommended). This option uses Plesk Installer and allows automatic updating of Plesk and its built-in services. In some cases, Plesk third-party components can be updated at the same time with Plesk.
Automatically install updates for third-party components (Plesk for Linux). Third-party services can be updated simultaneously either with Plesk components or with system components (if the System Updates tool is turned on).
Automatically install system package updates (Plesk for Linux). This option uses the System Updates tool and allows automatic updating of system packages and Plesk third-party components.
Note: To prevent certain packages from updating automatically, select them in the list of packages (in the All Packages tab) and lock them by clicking Lock. This option is only available if you use the System Updates Tool.
___________________________________________________________________________________
Additional Support
As always, should you require more assistance in relation to this issue, please contact our Helpdesk explaining your issue - and what you have done to this point, and we will be happy to assist you further.
Please see our full contact information, on our main website: Contact Us.
Alternatively, email help@blacknight.com for assistance.