Setting up Eset

You can see more information on Eset Endpoint Protection, and purchase it, here:
https://www.blacknight.com/security/eset/
Once you have purchased Eset you will get an email with your new Eset account login and password. 
Downloading Eset
You can download Eset Endpoint Protection here: Download Eset
Pick the appropriate link for the device or server you want to install it on. 
For example if you want to install the application on your local Windows PC you need to go with the "ESET Endpoint Security for Windows" option.
If you want to install it on your Linux or Windows server\VM then you need to scroll down to the "ESET File Security for Microsoft Windows Server" or "ESET File Security for Linux / FreeBSD" option.
Installing Eset
Run the installer after you download it.  The default settings are generally ok, but you can adjust if necessary.
At the end of the install Eset should run and prompt you for a licence key.
Pick the Security Admin option on the right (see image below)
Enter the email address and password you received when you purchased Eset.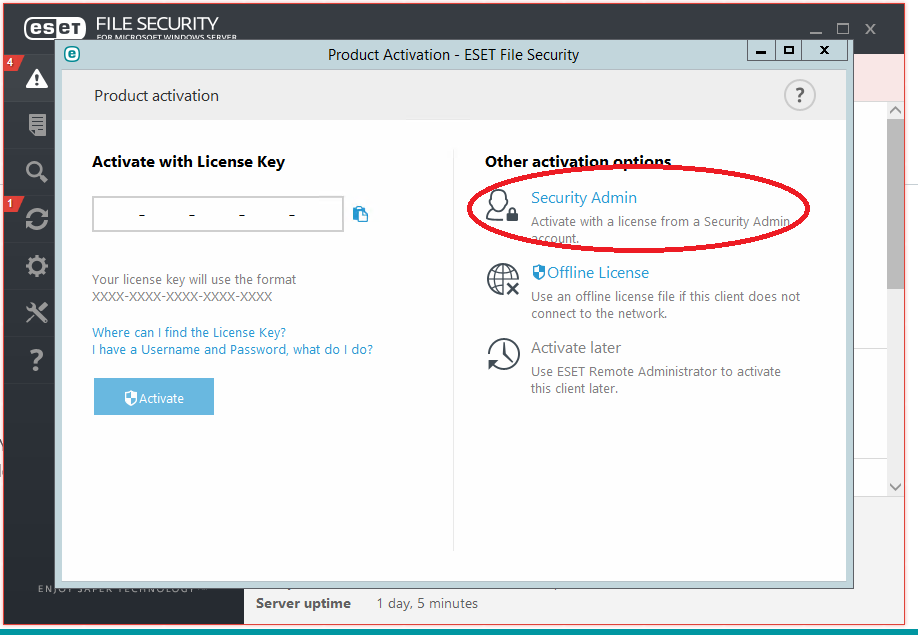 ---
Additional Support
As always, should you require more assistance in relation to this issue, please contact our Helpdesk explaining your issue - and what you have done to this point, and we will be happy to assist you further.
Please see our full contact information, on our main website: Contact Us.
Alternatively, email help@blacknight.com for assistance.