What is Two Step Verification
Two Step Verification is an extra layer of security to ensure that you're the only person who can access your Blacknight account, even if someone else knows your username and password.
How it works
Once Two Step Verification is enabled and activated and you want to sign in to your Blacknight account, you'll need to provide a six digit verification code that's displayed on your trusted device's authentication app. This process improves the security of your Blacknight account and all the information stored with it.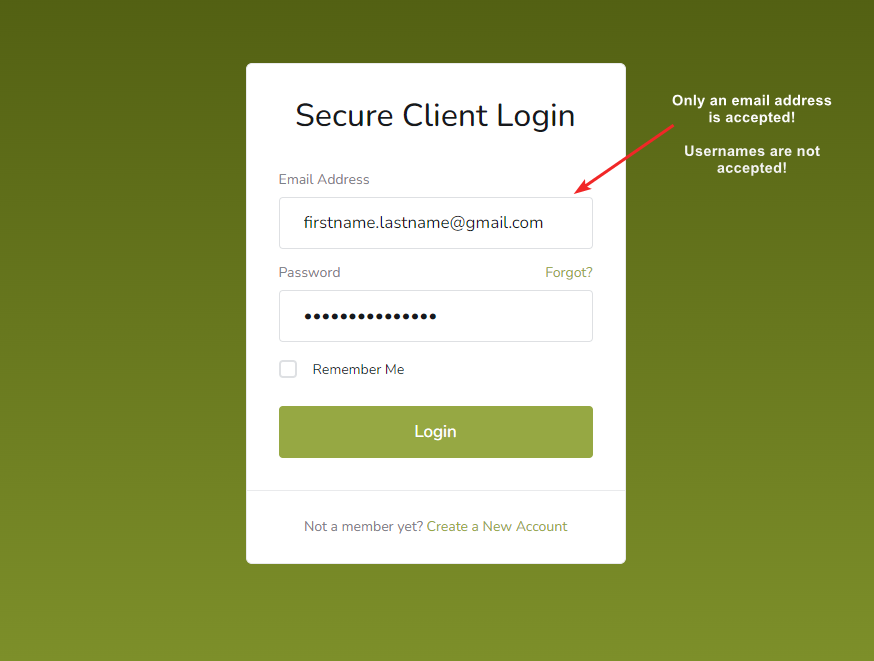 * Click on My Account on the top-right, and click Security Settings near the bottom of the list.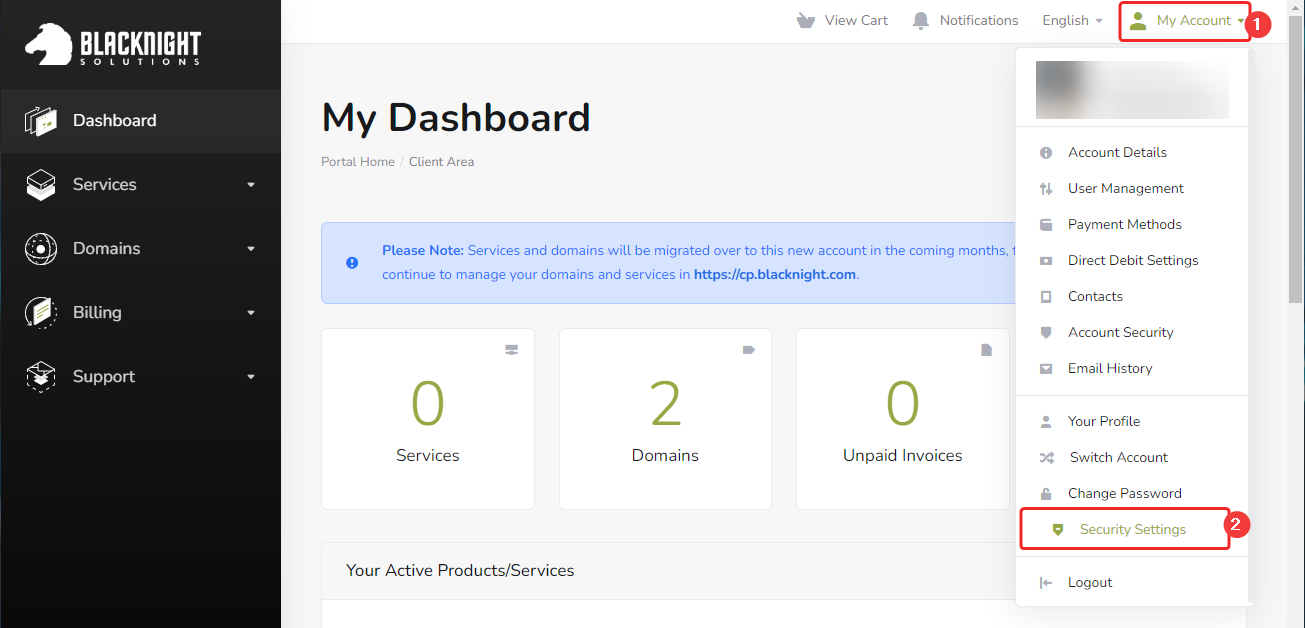 It will show Two-factor authentication is currently

disabled

, click the green Click here to Enable button to get started.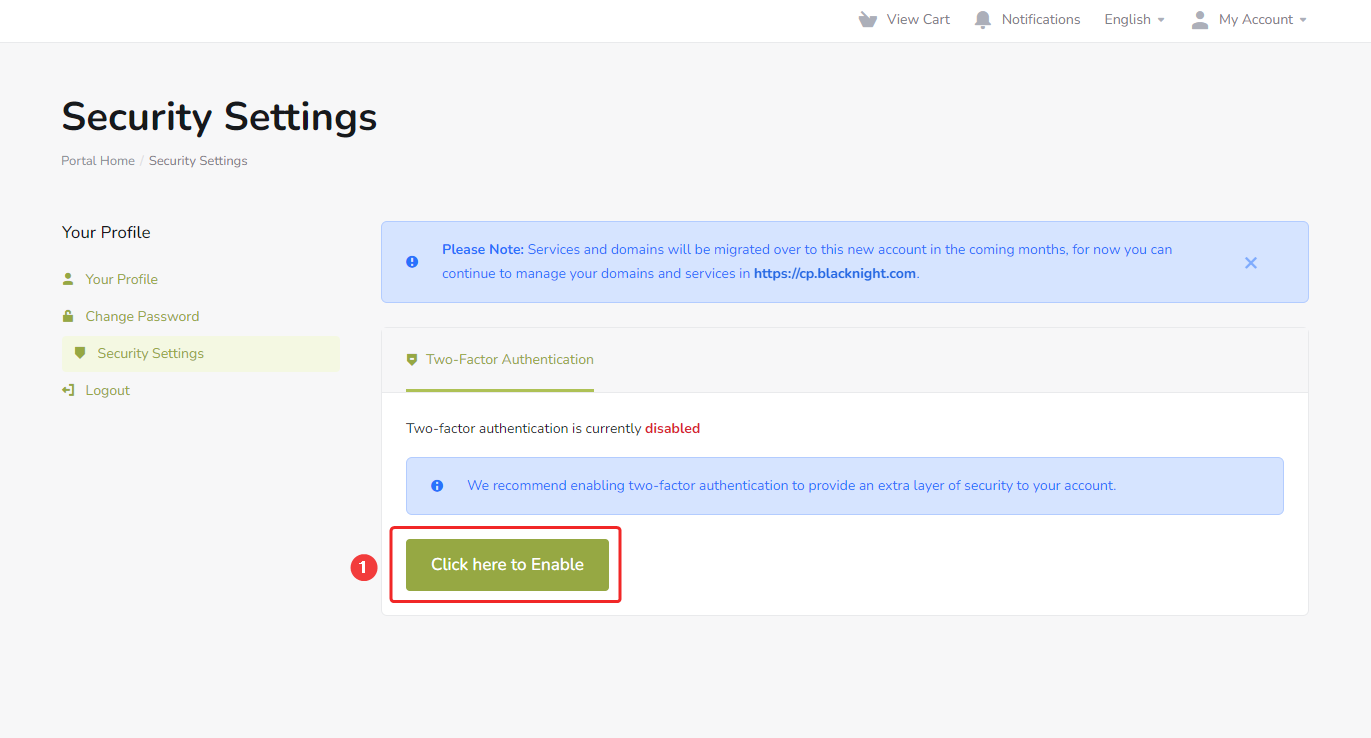 Click Get Started.
Using an authenticator app like Google Authenticator, Authy, or Duo, scan the QR Code shown on-screen. If you cannot scan, enter the code that is displayed on-screen.

These apps can be downloaded from the 'App Store' on iOS devices or from the 'Google Play Store' on Android devices.

Enter the 6-digit number that is on your device, and click Submit.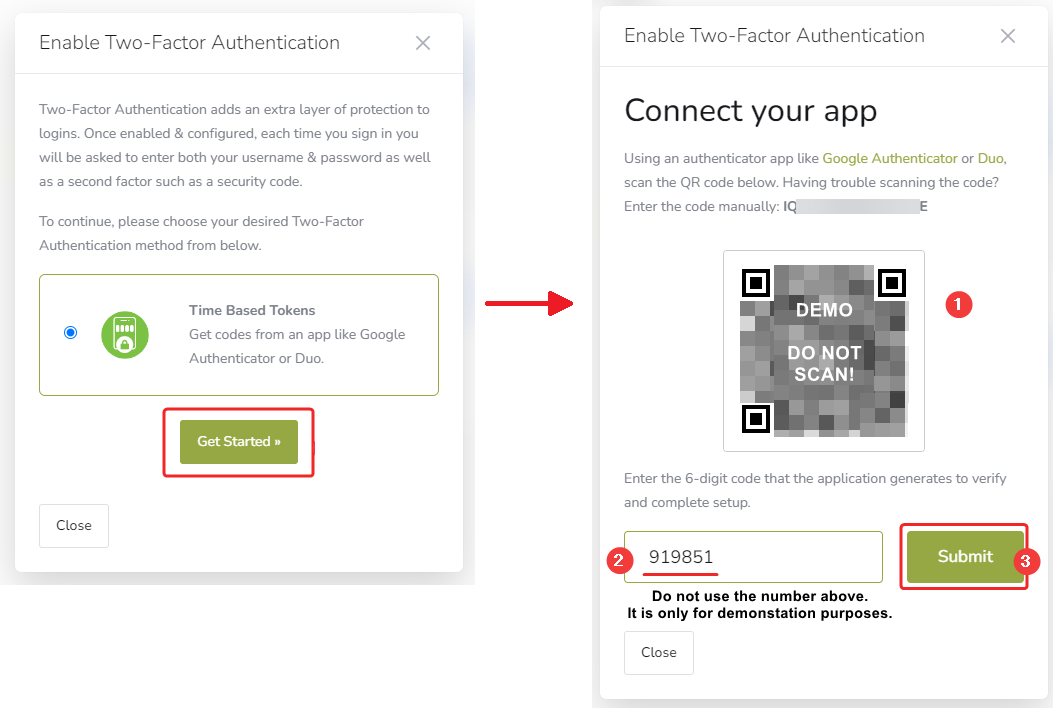 You will then be presented with a backup code. Take note of this and store it somewhere safe as you may need it if you cannot access your account. Once you have noted the code and stored it somewhere safe, click Close.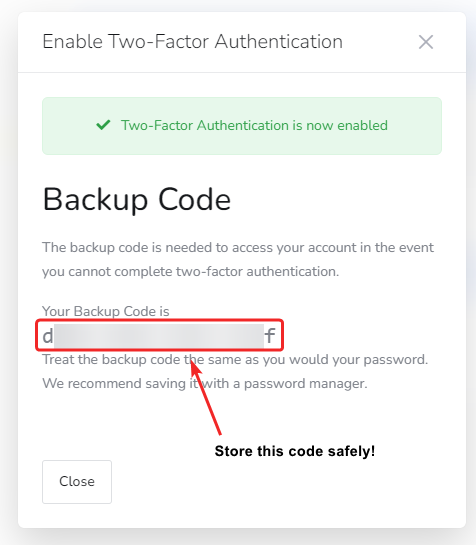 And you are done! Confirmation of Two Step Verification being set up is displayed on-screen with the message: "Two-factor authentication is currently

enabled

."
Every time that you log into https://cp.blacknighthosting.com, you will be prompted to enter a new 6-digit code from your device.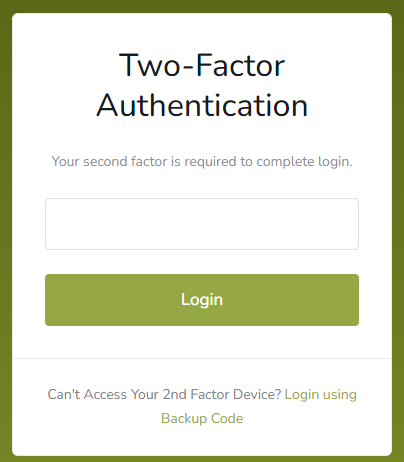 ---
(For the new Blacknight Control Panel, https://cp.blacknighthosting.com, scroll up on this page!)
Login to your Blacknight account. if Two Step Verification is not already enabled, you'll be prompted to enable it, set this option to 'on' and click 'continue'.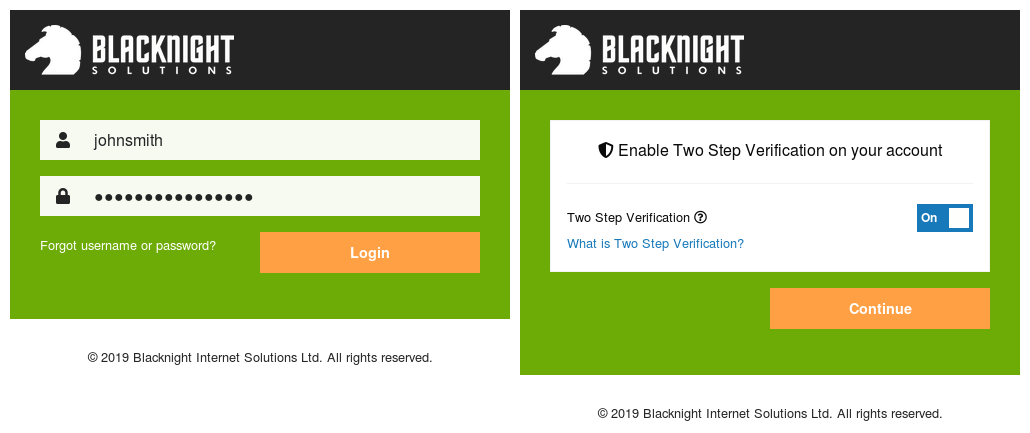 Next you'll need to complete a few steps on a trusted device such as your phone or tablet.
Download and install your preferred Authenticator App to your device. (You can choose from Google Authenticator, Microsoft, Authy, FreeOTP and others)
With your device, simply scan the QR code displayed on screen or enter the pretty key to authenticate.
To enable Two Step Verification, enter the 6 digit code from your authenticator app on screen and click 'Verify'.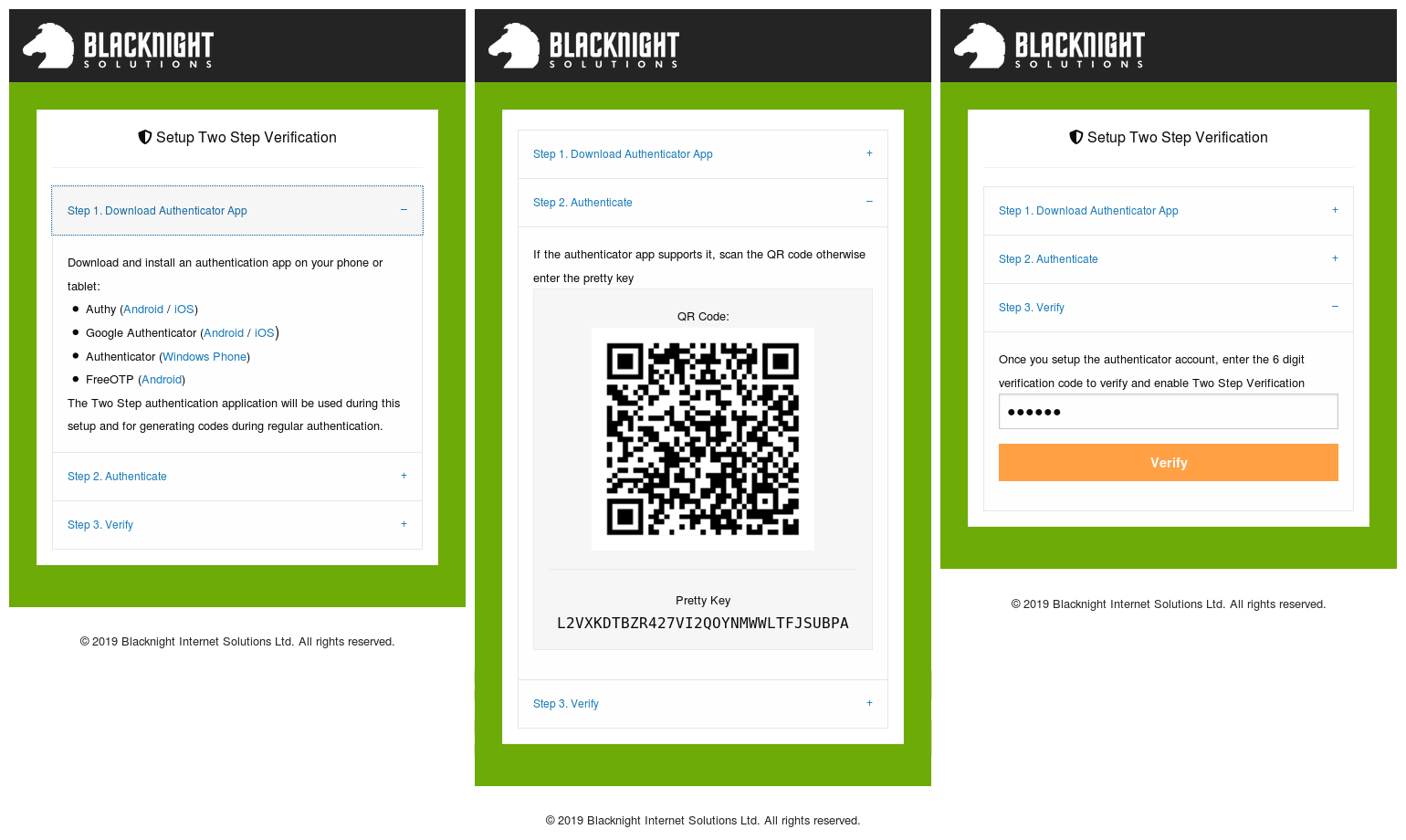 You'll be redirected to your Blacknight Control Panel.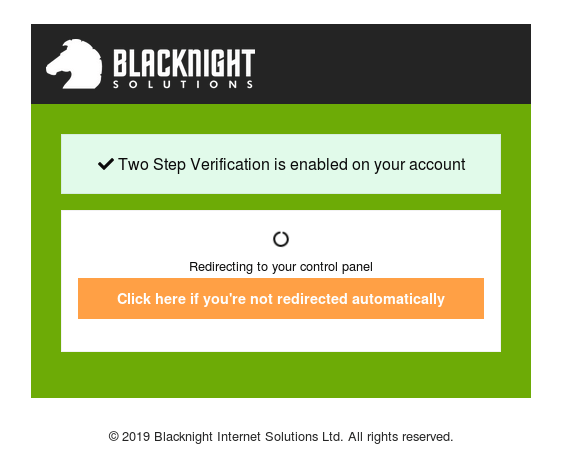 Every time you login to your control panel, you'll be prompted to enter a newly generated 6 digit code from your authenticator app.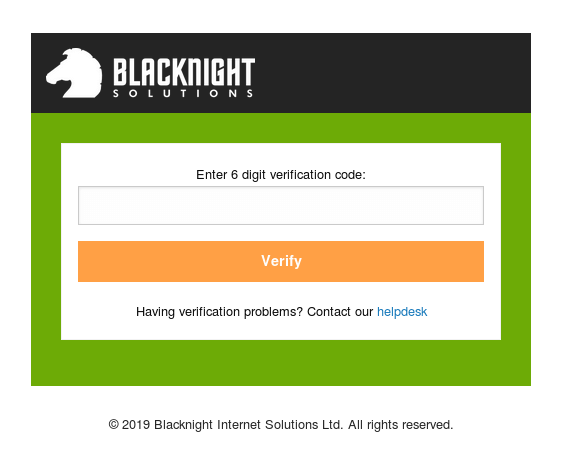 Troubleshooting and support
If you encounter any problems with accessing your Blacknight account, contact our support team via phone +353 (0)59 9183072 live chat or email help@blacknight.com.