This article relates to Outlook software versions that are no longer supported on the Office 365 system.
Outlook / Exchange Online
If you are receiving the following error:
Your Microsoft Exchange administrator has blocked the version of Outlook that you are using. Contact your administrator for assistance.
Or this error:
This feature has been disabled by your administrator.
The images showing the error: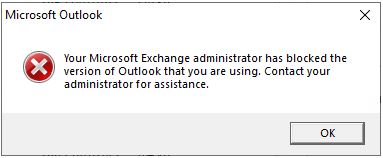 The likelihood is the version of Outlook you are using is not supported:
Outlook 2007
Outlook 2010
Outlook 2013
Outlook 2016
Outlook for Mac 2011
Outlook for Mac 2016
As this is the case, you would either:
Note that you can upgrade a Business Basic licence to Business Standard to obtain the newer software of Office suite to install on the local computer.
Important Note:
The following minimum versions of Operating Systems are required to install the newer Office 365 suite:
Windows 8
macOS 10.15 Catalina or later
---
Office 365 Articles
Please see the following URL for more articles relating to Office 365 subscriptions with ourselves:
---
Further Queries
If you have any queries on this, please contact our Support team - see the following for our contact details: